Connect with your users
CuVo is a consumer platform for products to collect live feedback in-app and improve user engagement
Engage in two way communication
Get live feedback from your users while they are in the experience and respond in real-time
Meet your users where they are
CuVo is available today on Amazon Fire TV, Roku, Samsung, Apple TV, Chromecast, LG, Vizio, browsers, iOS, and Android
Get insight with Consumer 360
Generative AI leveraged to automate quality responses that are intelligent and reduce churn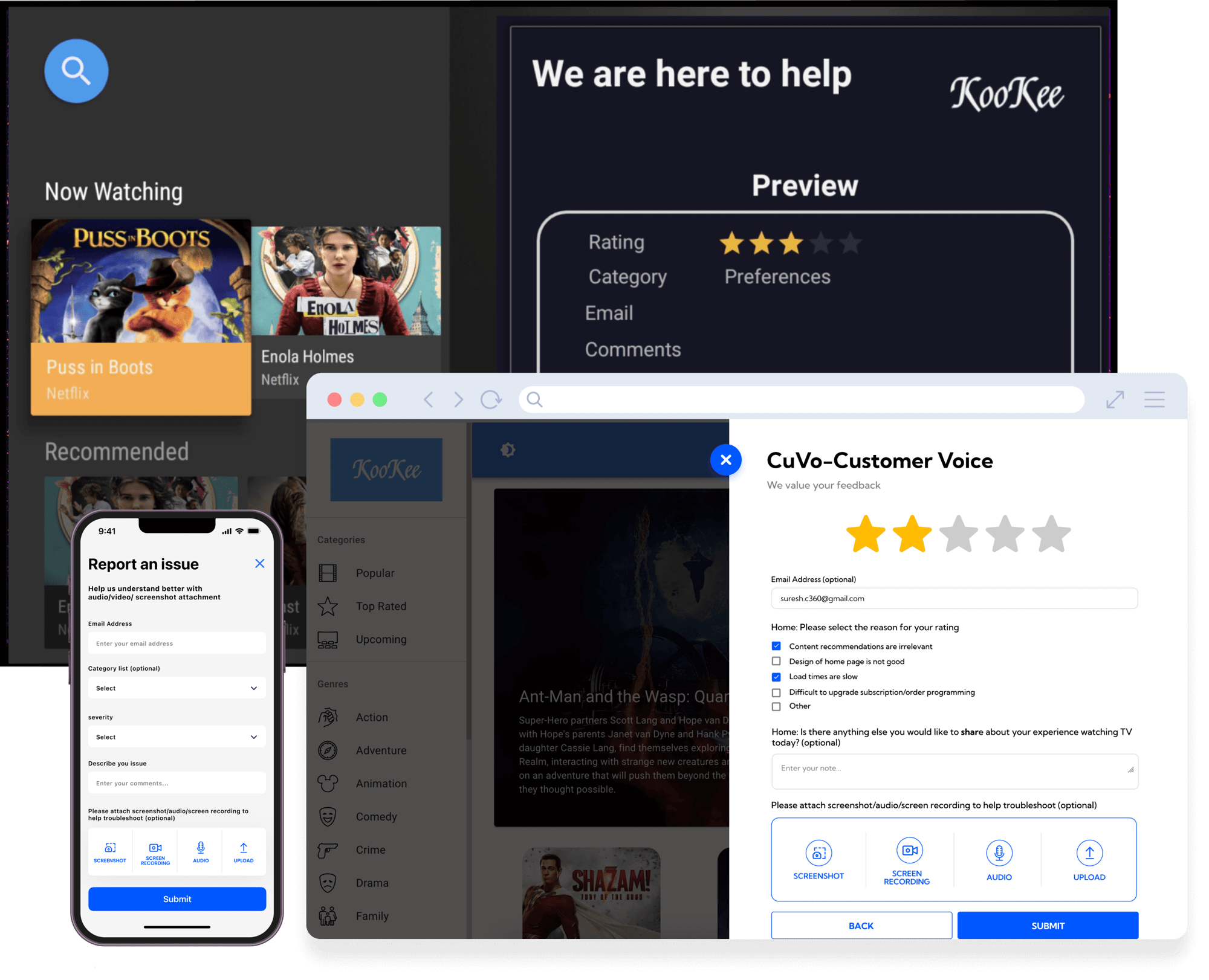 Improve consumer satisfaction
Create actionable steps to improve your product
Cut costs by
Save 30% on product development costs
Improve consumer retention by
70% higher 90 day retention rate
Increase usability of feedback by
2X increase in actionable, relevant and timely feedback
Who we help
Meet your consumers where they are
CuVo can be deployed on any device and platform, ensuring that your consumers voice is heard
Mobile App
CuVo seamlessly supports both iOS and Android platforms, out-of-the-box. CuVo can be customized to look and feel like your device native app.
Browser
CuVo offers comprehensive support for web browsers like Chrome, Safari, Firefox, Edge, and more, ensuring availability for browser based apps on all platforms.
TV & OTT Apps
CuVo provides support for various platforms, including Amazon Fire TV, Roku, Samsung, Apple TV, Chromecast, LG, Vizio, browsers, iOS, and Android.
Consumer 360
See and act on your user feedback in one place
In-line direct response to users
Cohort analysis (users & products)
Search and filter
Insights & sentiment
Flexible ticket handling
In-line direct response within CuVo
Integrate with Jira and Zendesk
Automated ticket handling
View insights and user sentiment
Data export using csv
Context rich tickets with real-time user data
Data import for 360 degree perspective
Zero code configuration
Save developer time for building your product
2 hours set-up to go live
Copy and paste auto-generated code to get started
Low ongoing maintenance
Role based access control
Data security
Policy based retention
Encryption and data protection
Comply with your privacy requirements
Flexible deployment
SaaS platform with shared or dedicated tenant
Option of on-prem deployment
Optimize Consumer Engagement
Welcome to the CuVo blog for insights from digital experts on the latest in product and customer excellence in media, mobile, and gaming.